METRO'S SCANIAS
Scania buses make up the largest part of the Metro fleet. N112, N113 (turbocharged), N113 (non-turbo) and Orana models can all be found as can a lone Scania low-floor model. Early models are powered by 203 bhp diesel motors while later models have 253 bhp motors with 3 or 4 speed automatic transmission and all are fitted with Ansair bodies manufactured in Tasmania.
All N112 and N113 models are numbered in the 1xx series, the Orana models are numbered in the 6xx series while the lone low-floor model carrys the number 200.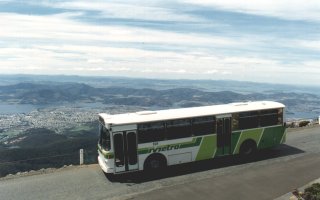 No.101 is a N112 model and here it poses
for a publicity shot on Mt Wellington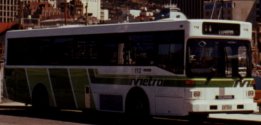 No.112 is an N113 (non-turbo) model fitted with
a later style of body.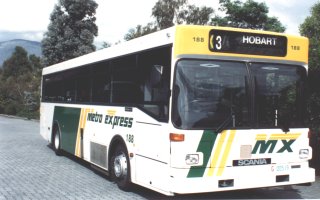 No.188 is an N113 (turbo) model and here
we see it carrying the MX markings introduced
when Metro commenced special express services.
Today any bus can be rostered for MX working and
those painted in the MX scheme are in general
working. Many drivers feel that 188 is one of the
best buses in the entire fleet.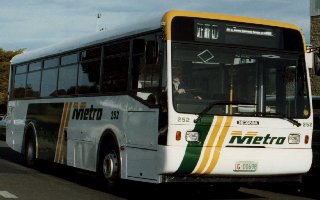 No.252 is an Orana model in service in
in the north of the state. These buses have since
been renumbered into the 6xx series.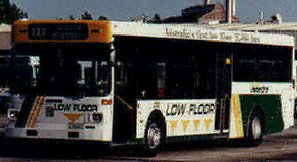 An early photo of bus 200, a pleasant
bus to drive but not popular with drivers who
are vertically challenged.

Back to the Metro interchange.