METRO'S MAN FLEET
These MAN buses are powered by a 186 bhp diesel motor coupled to a three or four speed automatic transmission. The bodies were built by Ansair. Metro has used its MAN Midi fleet throughout the state but today most can be found working around Hobart on specialised services. The service seen by most people is the Busy Bee routes (54 and 55) through Sandy Bay, the Wrest Point Casino, Churchill Avenue and the University. On these routes the buses carry heavy loads over steep grades on very tight times.
Recently Metro introduced a Doorstopper service through several inner northern suburbs and again turned to their MAN fleet for units that would operate in narrow streets and tight carparks.
These buses are popular with management and passengers but they are not popular with drivers because of their cramped driver compartments, high noise levels and harsh ride - conditions that only become apparent over a long shift.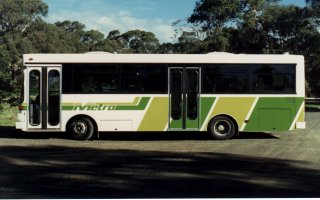 A MAN in Metro green colours. When seen
alongside the specialised schemes that
most MANs appear in the plain scheme
seems almost dull.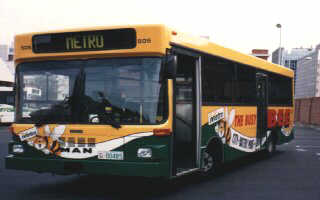 No505 poses in the old city depot for its
official photograph in Busy Bee colours.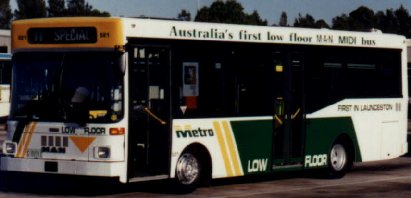 The only low floor MAN in the fleet. This
unit is assigned to the Doorstopper service and is
now wearing a modified Metro green scheme. It
is currently out of service with serious mechanical
problems.


One of the most amazing liveries you will ever see on a bus. Metro's Doorstopper MAN.

Back to the Metro interchange.