METRO BUS ARCHIVES - AEC & HINO
AEC buses were used in Hobart for some years. I have not yet been able to locate much information on these units but it appears that all were built in the United Kingdom and returned there when they were no longer required.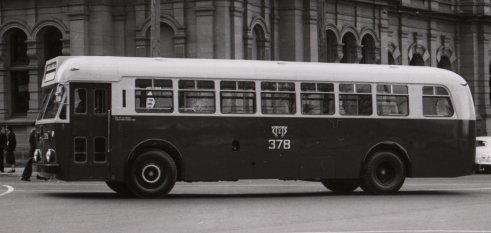 Here we see No.378 turning right at the Hobart
G.P.O. - a move that changed traffic flows has now
made impossible.

Hino buses appeared in Tasmania in the middle 1970s and were delivered in three groups, all based on BT51 mechanicals. The early units had 145 bhp motors while the later units came with 160 bhp unitsThese units became very popular with drivers because they saw the introduction of heaters, semi-automatic transmission (fitted to the last group), and power steering.

All these units are now out of MTT service but many are still in operation with smaller private operators and one is in use with the Hobart Fire Brigade.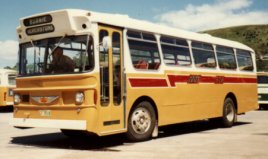 The units in the first two groups were fitted with
a single door. This particular unit was based in the
the north of the state where route numbers were
not displayed.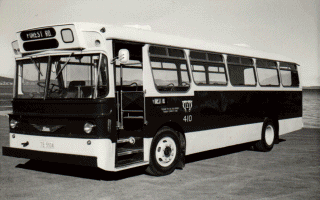 Hino No.410 was based in Hobart where route numbers
are displayed. This unit is wearing an early green/cream livery.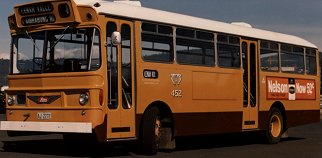 Hino No.452 was from the last batch and is fitted
with two doors, semi-automatic transmission and power
steering.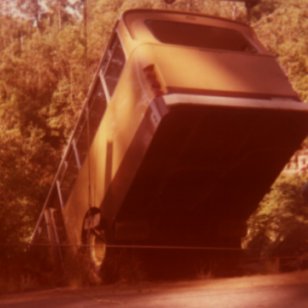 Ooops!
A third series Hino with its bottom exposed. Accurate details of this little incident have been lost but I can tell you that it happened just before a tight left hand bend on the route to Fern Tree. Depot legend has it that the driver claimed he had little experience, before this incident, of driving buses fitted with power steering. As he approached this tight bend he took several big handfuls of turn - and drove straight off the road. It is not quite as precarious as it might seem - the front of the bus is resting on quite a substantial ledge. In spite of that the incident must have really concentrated the driver's mind on his driving!


Back to the Metro archives.

Back to the Metro interchange.